An orphan drug is one that is developed specifically for treating a rare disease which is defined as affecting less than 200,000 people in the US, or less than one in 2,000 in Europe.1
It's estimated that there are more than 7,000 rare diseases affecting 300 million people around the world.2 With only 5% of rare diseases having a treatment approved, there is clearly a large unmet medical need.
Once largely considered too costly to develop, given the limited number of patients affected by a particular disease, legislation providing financial incentives and exclusivity coupled with new technologies and breakthroughs in biopharmaceuticals have changed the orphan drug landscape, allowing more orphan drugs to be developed than ever before. Thereby providing life-saving therapies to patients across the globe.
With growing importance worldwide, by 2026 it is predicted that orphan drugs will make up a fifth of all prescription drug sales, and almost a third of the global drug pipeline's value.3 There is a vast variety of rare diseases with 72% identified as genetic while others are infectious forms, autoimmune diseases and rare cancers.3 In a recent report by Evaluate Ltd, cancer remains the dominant therapy area for orphan drugs, accounting for six of the top ten pipeline candidates, with therapies for blood diseases and central nervous system diseases following.
Evaluate Ltd predicts that oncology orphan drug sales will grow 70% between 2021 and 2026 and that by 2026 cancer therapy orphan drug sales will have a combined NPV of $29.6 billion.4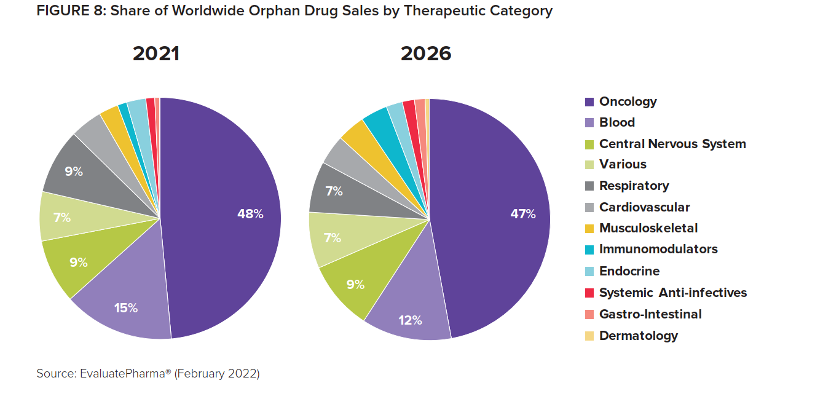 Even with economic and regulatory incentives, developing orphan drug formulations presents several challenges. Achieving clinical and commercial success with orphan drugs requires biopharmaceutical companies to overcome a number of development and manufacturing challenges related to fast-tracked timelines, the high value and limited availability of active pharmaceutical ingredient (API), formulation development and manufacturing scale-up. Addressing these challenges requires experience, expertise, and scalable technologies along with a flexible and agile supply chain.
Accelerated Solutions
Driven by the need to provide new life-saving therapies for an unmet clinical need and to take advantage of the streamlined review processes provided by the EMA Accelerated Approval pathway or in the US Fast Track, Priority Review, Breakthrough therapy or Accelerated Approval, orphan drug products are usually on accelerated timelines.
For those orphan drugs that are granted, an expedited approval pathway, the challenge for the biopharmaceutical company is to leverage their own or their partnering CDMO's drug development knowledge and build a strategy that maintains the integrity, quality and timeliness of the manufacturing process, ensuring a complete CMC package is generated to support regulatory filings. Aligning development, analytical, manufacturing and packaging functions internally or via a CDMO providing integrated end-to-end drug product solutions is vital to aid speed to patient and keep CMC activities on the critical path for regulatory submission.
Development & Manufacturing Efficiencies
The high value and limited quantity of orphan drug materials (drug substance and drug product) pose challenges across the drug product development lifecycle, from formulation and analytical method development through to clinical and commercial manufacture. As a result, true efficiency is a priority when developing these orphan drug products.
Early stage development must be process orientated and data driven to make the most of limited resources and de-risk development programs. Employing Quality-by-Design (QbD) and Design of Experiment (DoE) approaches throughout the formulation and/or lyophilization cycle development process aids in the identification and resolution of challenges such as solubility or bioavailability in advance of scale-up, validation and manufacturing, helping develop formulations and analytical methods that are robust and reliable to simplify the transition to clinical and commercial manufacturing.
Utilizing manufacturing processes such as drug in capsule (DIC) and fully automated sterile fill-finish assist in preserving API with minimal line losses, providing valuable cost and product efficiencies. Considering that many orphan drug bulk drug substances are biological in nature, they can be difficult to come by and are produced in small batch sizes. Maximizing batch yield is of primary importance and many tools may be helpful such as filter and tubing size selection, QC analytical and microbiological testing strategies and use of fill equipment with non-destructive weight checks. Often specialized sterile fill-finish approaches such as using the Cytiva SA25 robotic platform can provide tailored solutions of high-quality primary packaging components (vials, prefilled syringes or cartridges) in smaller packaging sizes and with less product loss.
Flexible Scale Manufacturing
The small patient populations associated with orphan drug products result in not only smaller clinical batch sizes but also commercial batch manufacturing compared to most other drug formulations. In addition, orphan APIs are typically complex molecules, such as cell and gene therapies or biologics that require specialized and flexible processing technologies to manufacture the drug product in relatively small campaigns, even for commercially approved orphan drugs. Often, the use of disposable filling solutions provides complete manufacturing flexibility, maximizing product yield, while minimizing any potential risk of cross-contamination at the manufacturing site.
Although developing a phase appropriate formulation may be viable and the quickest solution in early phase trials, forethought and collaboration between development and manufacturing teams is essential to address any potential risks during scale-up and process validation. If partnering with a CDMO, integrated drug product development, analytical and manufacturing solutions are vital for ensuring scientific continuity and aid scale-up.
Simplified Supply Chains
Recent events have put a spotlight on the need for nimble and agile supply chains to ensure the supply of life-changing orphan drug therapies to patients. Application of technologies such as Late Stage Customization (LSC) and Just-in-Time (JIT) supply models afford biopharmaceutical companies a much more streamlined approach, optimizing valuable drug product inventory whilst minimizing waste and loss ensuring vital medicines are delivered to patients around the world when needed. Likewise, developing an effective lyophilized presentation of the drug product could simplify the product's overall supply chain and obviate the complexities associated with cold chain packaging, storage and distribution.
Security of Supply
In an effort to address disruptions in manufacturing which cause drug shortages and to ensure an uninterrupted supply of critical life-saving medicines such as orphan drugs, the FDA have developed draft guidelines 'Risk Management Plans to Mitigate the Potential for Drug Shortages' providing guidance to help drug manufacturers develop, implement, and maintain risk management plans.
One risk control measure noted in the FDA guidelines is the identification of alternative / back-up suppliers. Dual sourcing allows biopharmaceutical companies to appoint a second supplier to ensure they have a continuity of supply for their life-changing drug products and to help mitigate risk should something untoward happen to their primary supply source. Dual sourcing can also provide supply chain agility and flexibility to deliver any additional supply in the occurrence of approval for a new indication.
The Role of CDMOs
Specialist contract development and manufacturing organizations (CDMOs) have a key role to play in helping biopharmaceutical companies navigate development complexities and overcome manufacturing challenges posed by small-volume orphan drugs.
Experienced outsourcing partners with expert technical capabilities and know how, can safely accelerate drug development through the clinical lifecycle towards commercialization. By working with a global CDMO able to offer integrated solutions from regulatory consultancy, formulation development, scalable manufacturing and packaging, biopharmaceutical companies can de-risk their orphan drug programs, saving time, reducing costs while ensuring these important life-changing therapies reach patients when needed.
Shawn Cain, SVP Development and Manufacturing, PCI Pharma Services
Shawn Cain is currently the SVP of Development and Manufacturing at PCI Pharma Services, a pharmaceutical full service CDMO. Mr. Cain has over thirty years of experience in combining process engineering and project management to direct the development and manufacture of sterile pharmaceuticals, cell-based biologics, and medical devices. Most recently, he was the Chief Operating Officer (COO) of Lyophilization Services of New England (LSNE), which was acquired by PCI Pharma Services in late 2021. Mr. Cain also held positions in Organogenesis and as Director of Operations for another pharmaceutical CDMO, Formatech, Inc. Prior to that, he was Interim President and Chief Executive Officer of Arbios Systems, Inc. Previously, Mr. Cain was employed at Becton Dickinson's Biologics Business. Mr. Cain was also the Vice President of Operations for Circe Biomedical, Inc., where he led the development of the bioartificial liver technology. Mr. Cain holds six patents, received his M.S. degree in Biological Sciences from the University of Massachusetts and a B.S. in Biological Sciences from Northeastern University.
References
1. Orphanet: About orphan drugs
2. Rare Disease Day 2023
3. Nguengang Wakap, S., Lambert, D.M., Olry, A. et al. Estimating cumulative point prevalence of rare diseases: analysis of the Orphanet database. Eur J Hum Genet 28, 165–173. 2020: https://doi.org/10.1038/s41431-019-0508-0
4. Senior, M and Hadjivasiliou, A, Orphan Drug Report April 2022, Evaluate Ltd
Rare Disease Drug Product Manufacturing Addressing the Challenges. – February 3, 2023, | As seen in Manufacturing Chemist.
---
We are committed to supporting clients at every stage of the manufacturing cycle, delivering best-in-class services efficiently and effectively.
Find out more about our fully integrated CDMO Services.
---