Digitization is now a strategic capability for CDMOs in providing pristine customer service to their clients.
Introduction
With significant growth over the past two decades, the pharmaceutical industry accounted for $1.42 trillion in worldwide revenues in 20211, while the value of the global pharmaceutical contract manufacturing market is expected to reach $95.9 billion by 2025.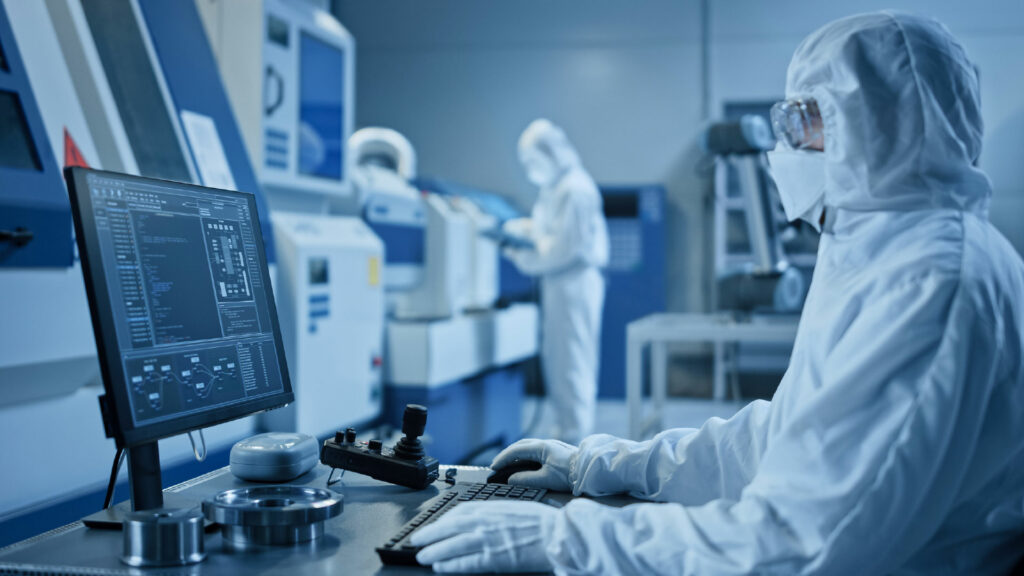 With the growth in research into targeted treatments for specific disease areas such as oncology and rare diseases, many organizations recognize the need for more streamlined processes delivering a faster speed to market. Smaller biotech startups may experience this pressure even more than established drug development pharmaceutical and biopharmaceutical companies since they are often privately owned and under pressure to show quick progression. But whether a large pharmaceutical company or a small biotech startup, both entities are increasingly turning to Contract Development and Manufacturing Organizations (CDMOs) to increase their delivery of innovative therapeutics to the market.
The most pioneering CDMOs embrace digital transformation to deliver pristine customer service by providing operational insights and efficiencies. These are key to delivering therapeutics when and where their clients need them. Companies that use advanced digital processes, behaviors and technologies can enhance their leadership position while being more globally competitive.2 But is the industry as a whole ready to embrace digital transformation and become more agile, data-driven and future-ready?
Research points to the growing recognition that digital is no longer a nice-to-have, but a must-have, for CDMOs and their client partners to succeed in the market. Since 2020, the number of healthcare and life sciences leaders who say digital offerings are an important way of gaining a competitive advantage has doubled. With rising consumer expectations, 93% of healthcare executives say they're innovating with a sense of urgency.3
Whether looking to take an early-stage R&D firm on the path to regulatory approval, or an established pharmaceutical company looking to keep its newest and most effective therapeutics on pharmacy shelves, CDMOs must make the right investments and coordinate strategically across their clients' supplier base if they hope to remain competitive.
"As a CDMO, we are required to manage the complexity of speed, service, quality, regulatory compliance and capacity, across manufacturing, clinical and commercial segments."
WAYNE HULL Chief Digital & Technology Officer PCI Pharma Services
"Progressing down a digital transformation path is now business as usual," he continues. "Placing digital transformation at the core to deliver pristine customer service is where the 'magic' lies. Soon, system integration across the bio/pharma industry ecosystem will be required and expected. Fortunately, CDMOs are best positioned to help pharma and clinical innovators leverage digital technologies, including integrating their systems with their suppliers and partners."
So, what challenges face CDMOs as they help pharma and clinical life science clients embrace the promise of a digital future? The scope of a CDMO's involvement in supplier and distribution chains and channels differs dramatically between commercial and clinical organizations. The size, digital maturity and motivation across the mix of clients they work with differs, too.
Challenges on the Path to Digitization
Within commercial pharma, products are already regulatory approved, shipping in larger batch quantities to warehouses or 3PLs and then to a retail store or pharmacy. These organizations are typically managing a larger volume of SKUs, planning for long-range demand forecasting and maintaining a high number of recurring purchase orders.
In contrast, clinical trial volumes are generally smaller and there are fewer production or resupply runs, but because patient populations are dispersed globally, the storage and distribution networks are very complex. These investigational therapies are sometimes more volatile and require small quantity parcel shipments and specialized import and export oversight. For clinical trials, CDMOs deliver products directly to investigator sites for in-clinic distribution to patients.
"As a result of these differences, CDMOs have to ensure the digital tools and capabilities of digital platforms they deploy are built to meet their respective needs," says Kristi Lecher, Sr. Director, Global Digital Supply Chain for PCI. "For example, we find that a commercial product organization's digitization efforts are focused more on tools that improve visibility to the recurring order processing and demand planning. Clinical organizations are more focused on gaining visibility to the distribution processes and tracking. Both are equally concerned with production status, product release, inventory visibility, collaboration and the desire to have easily consumable real-time access to data."
Platforms such as web portals have existed for a while within the clinical space because of the use of IRT services to manage their clinical trial inventory. Lecher adds, "That is true, but more transparent supply chain visibility is now an industry wide need. Companies are increasingly more interested in easy-to-use digital tools and integration of their ERP systems to increase efficiencies and work more seamlessly with their strategic partners."
Overcoming Resistance, Supply Chain Challenges
There are four main hurdles to digitization that CDMOs must navigate whether they are serving commercial or clinical clients. First, pharma and clinical providers resist using digital tools, since much of the industry is still paper and manually process-driven, notes Lecher.
These traditional approaches to operations become an even bigger time and labor drain when pharma companies want to track where their products are in the supply chain.
That's one reason pharma and early-stage therapeutics developers have embraced pci | bridgeTM, PCI's supply chain management platform that was designed to provide real-time insights, including inventory data, product and order management, and distribution statuses, while automating their day-to-day processes.
A second challenge involves delivering exceptional customer service at a time when healthcare organizations overall are racing to deliver better patient experiences. CDMOs – regardless of whether they are serving commercially-led pharmaceutical companies or clinical clients – struggle to be service-first focused due to the complexity of coordinating systems across the ecosystem of the CDMO, supply chain partners and the commercial or clinical provider.
Supply chain issues are a third hurdle, and one that came into stark light during the COVID-19 pandemic. That crisis highlighted the core problems pharma companies and distributors experience daily, but especially with the introduction of new Covid vaccines needed at mass scale and requiring precise temperature ranges in transit and in storage, according to an article in SupplyChainBrain.4 The article stated that 20% of Covid vaccine losses in 2020 were due to cold chain issues, citing Q1 2021 data from the Centers for Disease Control and Prevention.
Like all industries, the pharma industry is experiencing unprecedented supply chain shortages that hinder the ability to get products to market quickly. Latest industry research finds that more than half of companies lack end-to-end supply chain visibility5, leading them to add oversight to their supply chain to mitigate disruption risk.
Lecher agrees. "For our clients, understanding where exactly things are in the process gives them valuable insight into cycle times and planning assumption. The more you can refine your future plan based on actual real-time data, the quicker you can react to changes and the more predictable your supply chain can become."
Data Disconnect Underscores Need for Integration
A fourth hurdle to digitalization is the disconnect of real-time information that plagues today's pharma manufacturing and supply chain environments. Despite CDMO clients wanting the same real-time insights and data that they enjoy as connected consumers, they often must rely on email, SMS and cadence calls to get the latest status on suppliers and production. CDMO and customer data needs to be integrated.
When data is shared in a platform, it can be a game changer, as it was for a top 20 global pharma company. Before implementing the pci | bridgeTM platform, PCI constantly relied on emails to track production, perform schedule updates and manage component and bulk flow across three sites. Supply chain issues exacerbated these challenges, as identified by PCI customer engagement leaders.
"The recurring volume of emails we exchanged was unmanageable, and if we didn't provide a daily schedule update, our client became very persistent in obtaining that information," recalls Nick Huftalin, Senior Commercial Project Manager.
Digital Transformation: An Imperative for Future-focused CDMOs
Clearly, embracing a digital-first mindset can allow CDMOs and the clients they serve to stand out from their competition by being able to leverage data for better insights. These innovators are more likely to modernize their infrastructure, be more cyber aware and can more quickly anticipate and respond to changing market dynamics.
"Data is the foundation that digital transformation is built on. Acknowledging that fact is integral to digital transformation."
KRISTI LECHER Sr. Director Global Digital Supply PCI
In supply chains, up-to-date, well-organized and actionable data is enabled by a robust digital strategy. CDMOs that champion digitalization can outpace their peers from a growth and profitability standpoint. Many pharmaceutical organizations are starting to realize the importance of a digital strategy and require it as a selection criterion for CDMOs, says Lecher.
"Several PCI clients use a tiered system for their supplier selection and for a CDMO to be considered one of their strategic suppliers, they must have a digital strategy and document how they handle digital transformation, including solutions or portals for information sharing and integration," she says.
Benefits of Digitization within a CDMO
Early digitization adopters within CDMO organizations realize several benefits that are a win/win for both them and their clients. First, leading with a digital-first strategy shows commitment to strategic partnering and helps build longer-term relationships.
Another powerful advantage of investing in data platforms is it allows CDMOs to be in tune with their client's needs while driving greater insights. In this way, CDMOs can take feedback from customers to help improve processes.
"We've enabled the feedback loop with our clients, and we are closer to what they need. This is an invaluable insight," says Lecher of the pci | bridgeTM platform. "We regularly tap into the voice of our customers while building these tools."
Lecher says this feedback loop has enabled PCI to refine and improve its platform, ensuring that the functionality users would find useful is prioritized.
Another benefit of digitization is the ability to automate day-to-day processes. Digital platforms allow CDMOs to put information into the hands of front-line supply chain and operations staff to make decisions when they need it, whether it's the status of inventory or knowledge of when their product has shipped and arrived.
For example, with pci | bridgeTM, the top 20 pharma company can now see all schedule updates and production flow in real-time with no concerns about data integrity because the information flows from the company's ERP software suite, JDE.
This client uses the platform daily to check if lots have arrived and are ready for production and to manage the release process. To keep up with the market demand for their products, the company's supply chain managers must be "hands-on with all this information," Nick Huftalin adds.
Digitization also can build more data literacy and more data integrity in commercial pharmaceutical or clinical R&D organizations. Currently, the pharma company is exploring ways to expand its use of pci | bridgeTM beyond production and inventory to include electronic document management so it can benefit from the platform's full capabilities.
CDMO Digitization Best Practices
Before embarking on a digital transformation path with their CDMO, pharma companies first must make sure that their CDMO partner embraces these four best practices:
Delivering exceptional customer service: This means fusing experienced customer service executives with new digital tools and behavior, rather than adhering to traditional practices of replacing one with the other or the tendency of people in organizations to resist adopting digital technology and processes. Blending the two approaches will result in a different level of customer service.
Employing end-to-end integration: Today, information between CDMOs, pharma partners and the end customer is not integrated; that disconnect leads to operational inefficiencies and poor execution. Digital transformation can eliminate silos through integration, so users gain real-time access to up-to-date operational data. This visibility and data insights will enable both CDMOs and partners to serve end customers at a high level.
Embracing electronic batch records: Records in the pharma industry are predominantly physical assets. Converting from paper to digital may be "the holy grail" for a digitally focused CDMO, says PCI's Chief Digital & Technology Officer. However, it takes time, with typical electronic records initiatives involving a multi-year journey. When considering where and how to start, a digitally driven CDMO can help guide companies on the right path.
Making cybersecurity a part of the culture: Incorporating cybersecurity into an organization's culture, rather than just bolting it on as a part of IT, is critically important. CDMOs with a digital-first strategy prioritize cyber awareness, especially since the biggest cyber compromises come from behavior. In fact, an IBM study found human error as the main cause of 95% of data breaches in 2021.6 CDMOs that infuse cyber awareness into their culture will ensure everyone takes responsibility for safeguarding portals and data, which ultimately protects their clients' data.
How to Evaluate a CDMO's Digitization Offerings
Finding the best CDMO for a pharma company's digital implementation can be challenging, especially if your organization is new to the digital journey. Given the amount of hype around digital transformation, companies may struggle to discern what to look for when evaluating a CDMO's capabilities.
Here are three questions astute pharma companies should ask when assessing a CDMO to guide their digital transformation:
#1 Does the firm "walk the walk"?
Look beyond a CDMOs' strategy presentations and what they say about digitization to see how they are delivering better customer service, what platform they are using and whether they are investing in next-generation integration tools. Also consider how they're employing data analysts to look at the supply chain and financial side of digitization, whether they have a cybersecurity policy and if they are reporting metrics as well as behavioral management components, etc.

#2 How is digitization budgeted compared with broader IT efforts?
Assess the budget for digital transformation versus business-as-usual IT. How is this measured? CDMOs that invest in digital technologies and tools as well as a strong partner training component drive better value to pharma companies, which can translate to faster and better return on investment.

#3 What is the CDMO's appetite for co-innovation?
Does the CDMO have the capacity to work on a joint problem with a client and solve a specific challenge using digitization? Are they constantly innovating and looking for partner and end user feedback? "The only way we make our digital transformation smarter, better and faster is through the voice of the customer," says Ahnika Bogart, Customer Success Manager for PCI.
Conclusion
"Ray Kurzweil did the math and found that we're going to experience twenty thousand years of technological change over the next one hundred years."
– Peter H. Diamandis, The Future Is Faster Than You Think: How Converging Technologies Are Transforming Business, Industries, and Our Lives
Data and digital transformation are at the heart of Diamandis and his Singularity University co-founder's prediction, and it's a truth that requires CDMOs to operate differently in serving the pharmaceutical industry.
The drive to bring new innovative therapies to market and keep existing novel drugs on shelves has never been more challenging. The complexity and challenges in the supply chain and the push for better customer experience are putting new pressure on pharmaceutical companies and their R&D-focused counterparts to embrace digitization. The right CDMO partner can guide them and ensure they don't fall behind.
References
1. "Revenue of the worldwide pharmaceutical market from 2001 to 2022," Statista, 2023.
2. How Digital Quality Management is Transforming Pharma Manufacturing, Veeva.com, 2023. https:// www.veeva.com/resources/how-digital-quality-management-is-transforming-pharma-manufacturing/
3. "Pharmaceutical Contract Manufacturing Market, 2025," Research and Markets, 2019.
4. "Five Critical Challenges Facing Pharma Supply Chains," (Tive-sponsored content), SupplyChainBrain, March 3, 2022.
5. The Association for Supply Chain Management (ASCM), The Resilient Supply Chain Benchmark: Ready for Anything? Turbulence and the Resilience Imperative, 2021.
6. Why Human Error is the #1 Cyber
---
We provide a complete range of pharma supply chain management services and we are committed to supporting clients at every stage of the clinical cycle, delivering best-in-class services efficiently and effectively.
Find out more about PCI | bridge here
---
Our dedicated team of specialists will be happy to discuss any of your supply chain management service needs. Contact us on +1 779-208-1819 (US) or +44 1495 711 222 (UK/EU) or email talkfuture@pci.com