PCI Clinical Trial Services' Supply Management And Readiness Team (ClinicalSMARTTM) offers clients over 300 years of industry experience in Clinical Supply Project Management. This talented and highly experienced group provide supply chain expertise and support all types of clinical trial studies and programs within all phases of development.

The services offered by PCI's ClinicalSMARTTM team can be customised to meet specific study requirements and can be adapted as the trial or clinical plan progresses. SMART Clinical Supply Managers (CSMs) have the expertise to manage single trials or entire clinical programs from the pre-planning stages through study close-out. Working with the ClinicalSMARTTM has deemed to be beneficial in the early stages of protocol development to not only help with reducing costs and delays but also with early risk identification and issue avoidance.
Our highly experienced SMART team are also able to guide the establishment of processes and SOPs when they do not exist or are not robust. The team is able to give guidance on processes such as:
[slide-anything id="16966″]

Involving ClinicalSMART CSMs early in your drug development process will ensure that your clinical studies are supported by a robust clinical supply strategy, whilst reducing waste and overall costs.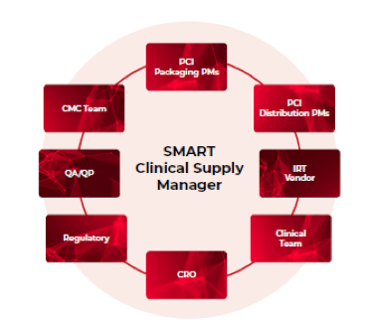 To understand how you can benefit from utilising ClinicalSMARTTM or connect with one of our team members please complete the form below to set up your free 15 minute consultation.